Rishi Sunak MP has launched the first Barclays Eagle Labs business incubator space in North Yorkshire with Barclays CEO C.S. Venkatakrishnan.
The Eagle Lab will operate in partnership with tech incubator specialists C4DI to help boost North Yorkshire's start up and entrepreneurial ecosystem, driving growth in the local economy.
The Eagle Lab is part of the £2.3m C4DI Northallerton tech hub which opened last year as part of the Treadmills redevelopment of Northallerton's former prison, bringing advanced digital skills and jobs to the town to enable the area's economy to thrive through technology.
C4DI Northallerton is the centrepiece of the Treadmills scheme, which is being delivered in partnership by commercial developer Wykeland Group and Hambleton District Council. It has reinvented the derelict, 230-year-old prison site as a digital workspace, educational facility and retail and leisure community, with further investment now under way to complete the regeneration.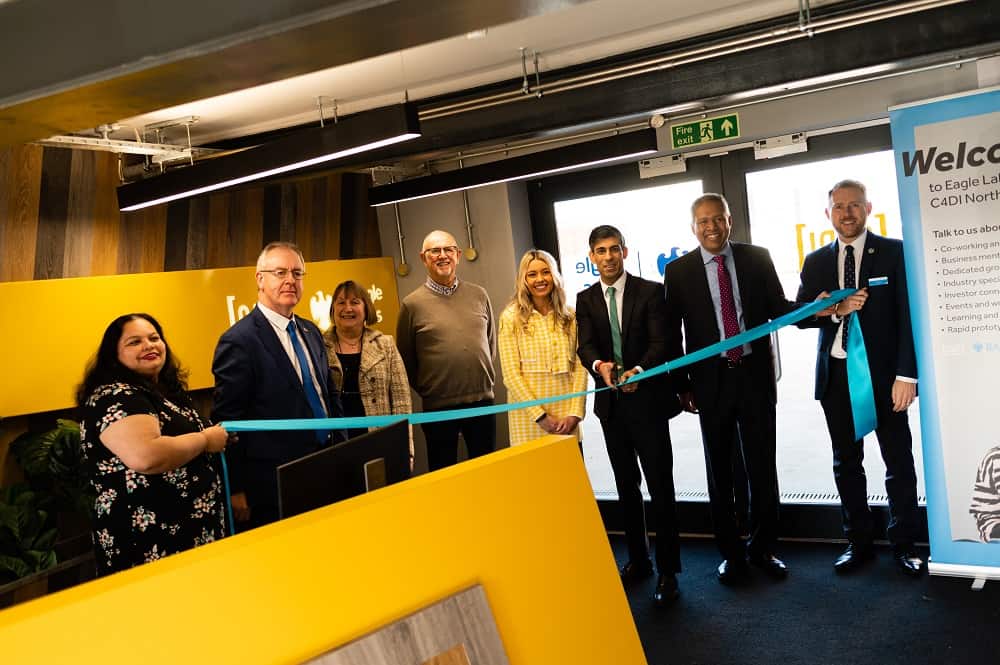 Businesses can apply now to join the Northallerton Eagle Lab, the 4th in Yorkshire and the 23rd physical Eagle Lab location in the network, which supports 29 business ecosystems nationwide.
The Eagle Lab will provide start-ups and entrepreneurs with co-working, office and meeting space. Barclays will also support entrepreneurs with access to banking services, business expertise, mentoring and coaching from scale-up specialists. The team will also host a full year-round events programme dedicated to promoting collaboration and innovation in the community.
Beyond providing a hub to work from, Eagle Labs offer members the opportunity to connect with like-minded entrepreneurs, local organisations, universities, industry bodies and potential clients and investors across the country, to help them build their networks and grow.
Rishi Sunak, MP for Richmond, said: "North Yorkshire has a strong small-business, entrepreneurial culture and the Eagle Lab will help boost that in the technology sector which offers such potential for future growth and success.
"Providing a home for people with great ideas and connecting them with the people who can help make those ideas work successfully is what this new centre is all about.
"I look forward to hearing about exciting start-ups and existing businesses scaling up to deliver high-quality jobs on the back of technological innovation."
David Keel, Chairman of C4DI, said: "We have a long-standing and successful partnership with Barclays Eagle Labs at our sister C4DI site in Hull and we're delighted that our collaboration has now extended to Northallerton.
"By launching Eagle Lab Northallerton, Rishi Sunak has underlined the vital role C4DI and the partnership with Barclays will play in accelerating the development of tech businesses and supporting the growth of the wider economy locally."
Councillor Mark Robson, Leader of Hambleton District Council said: "As Leader of the Council I am delighted to welcome Barclays and their innovative Eagle Lab concept to Northallerton.
"This is a very exciting day for Hambleton. To see such a unique concept, which has been years in the making, come to fruition, is a proud day for all involved. The work Barclays will do at C4DI will no doubt complement the work which is already going on and put Northallerton firmly on the map as a destination of choice for business start-ups, digital education and training."
Jon Hope, Director of Barclays Eagle Labs, said: "We're really excited to partner with C4DI and Hambleton District Council to bring the first Eagle Lab to North Yorkshire. We'll bring our Eagle Labs philosophy to Northallerton, helping to provide start-ups and scale-ups a home and fostering the connections to help them grow."
York & North Yorkshire Local Enterprise Partnership supported development at the C4DI site with £1.8m secured from the Government's Local Growth Fund.
Helen Simpson OBE, Chair of the York & North Yorkshire Local Enterprise Partnership, said: "This additional resource for businesses is great to see and will have a positive impact for Northallerton and the wider area. The region has ambitions to be a greener, fairer and stronger economy and this is another welcome boost in helping us get there."
For more information about the Northallerton Eagle Lab, click here.