An idyllic business park that raises the bar for commercial property in the region
Situated in lush, green surroundings at the crossroads between regions, Bridgehead has consent for 612,000 sq ft of high tech business premises and 275,000 sq.ft has currently been developed. They can serve as offices, research and development facilities and high tech manufacturing premises.
It's the ideal location for organisations who want elite technical capabilities like resilient high speed internet connectivity together with a natural environment in which their employees can thrive. Many, such as Ideal Heating, University of Hull's environmental innovation centre – Aura, Porsche and Beal Homes already call it home.
LOCATION
Gain a commercial advantage
Current tenants of the 50 acre Bridgehead Park agree that it offers a stimulating and stunning environment to work from. Completed developments have achieved BREEAM Excellent and an EPC 'A' rating showing their sustainable credentials.

As well as being home to many office premises, Bridgehead Business Park also features TipToes Nursery, Moe's Kitchen cafe and a TC60 Gym and Health Club due to open later in 2022.
It's location on the North Bank of the Humber, adjacent to the Humber Bridge, with easy access from Hull, North Lincolnshire, the East Riding of Yorkshire and with good links to the rest of the UK, provides a commercial advantage like no other.
What's here
An ideal place to work
Bridgehead is one of the UK's greenest business parks. The impressive, future-proof buildings are part of a low density development which includes 40% landscaping and plenty of green spaces.
Visitors and employees can explore a natural environment which has been managed in partnership with the Yorkshire Wildlife Trust to preserve local wildlife. The mature forest and woodland walks create a tranquil environment, perfect for a relaxing walk.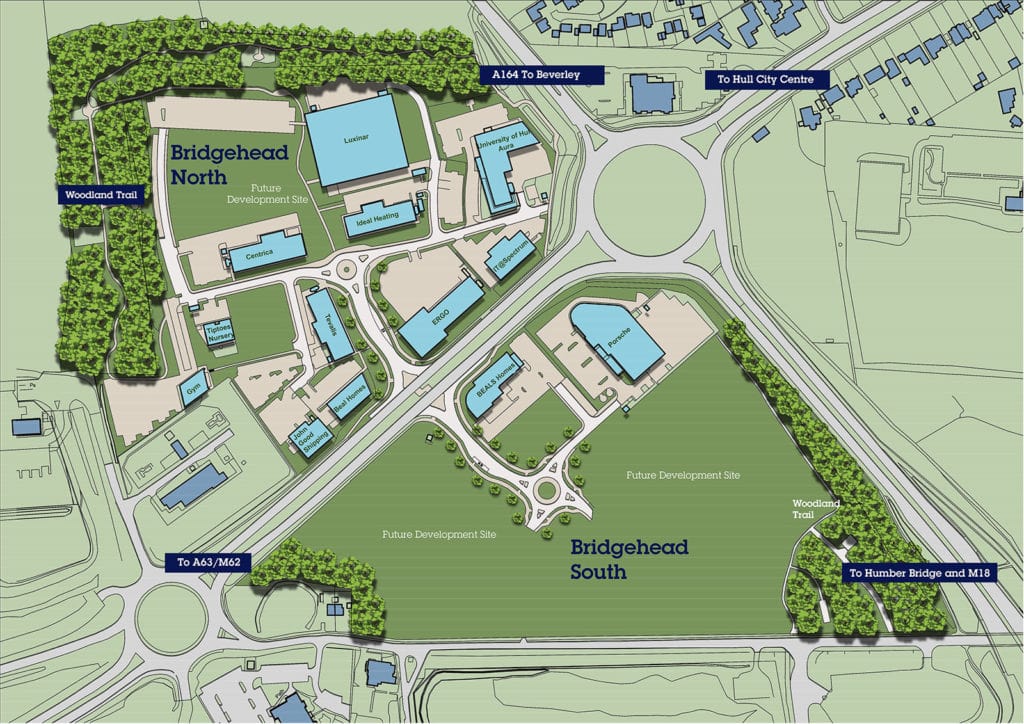 A NEW LOCATION FOR YOUR BUSINESS
Available Properties
Find your new headquarters