110 acre business park in the heart of the Humber Region. Home to some of North Lincolnshire's leading businesses.
Europarc in Grimsby offers 800,000 sq ft of premium enterprise space, catering for a wide range of businesses. There are opportunities for smaller scale operations and startups in the Innovation Centre, Grade A premises for larger established businesses and space for new, bespoke units.
Users of the innovation centre have a serviced reception and impressive conference and meeting room facilities providing the ideal environment to invite visitors and clients. The park is bustling with over 2000 employees currently onsite and upwards of 1700 more are likely to arrive as new developments are completed.
LOCATION
Europe on the horizon
Europarc's location on the Humber puts it amongst one of the busiest port complexes in the UK. Grimsby provides access to mainland Europe and hosts a sizable concentration of food companies.
70% of UK seafood is processed here and a broad spectrum of services supporting seafood, agriculture and food logistics reside on the park. Regardless of your industry, links to Grimsby port, nearby Hull, Humberside Airport and the M18 via the M180 make it a great location for any national and multinational enterprise, needing easy connections with the UK and Europe. We're just 200 miles from London, Edinburgh and Rotterdam.
What's here
Work and Leisure side by side
Employees onsite at the Genesis Office Park, Pegasus Square, Humber Seafood Institute and Europarc Innovation Centre have the highest quality premises and also benefit from our commitment to sustainability. Providing a pleasant, attractive environment for work is essential.
20% of the site will always remain landscaped and refreshment is provided by 'The Grind', a local cafe in the Innovation Centre as well as the nearby Greene King Pub, Beechwood Farm. This is part of our upcoming development, 'The Village', which will add a raft of other leisure and retail opportunities for users of the business park. This includes outline planning consent for a hotel, restaurants, gym, nursery, retail and additional office space.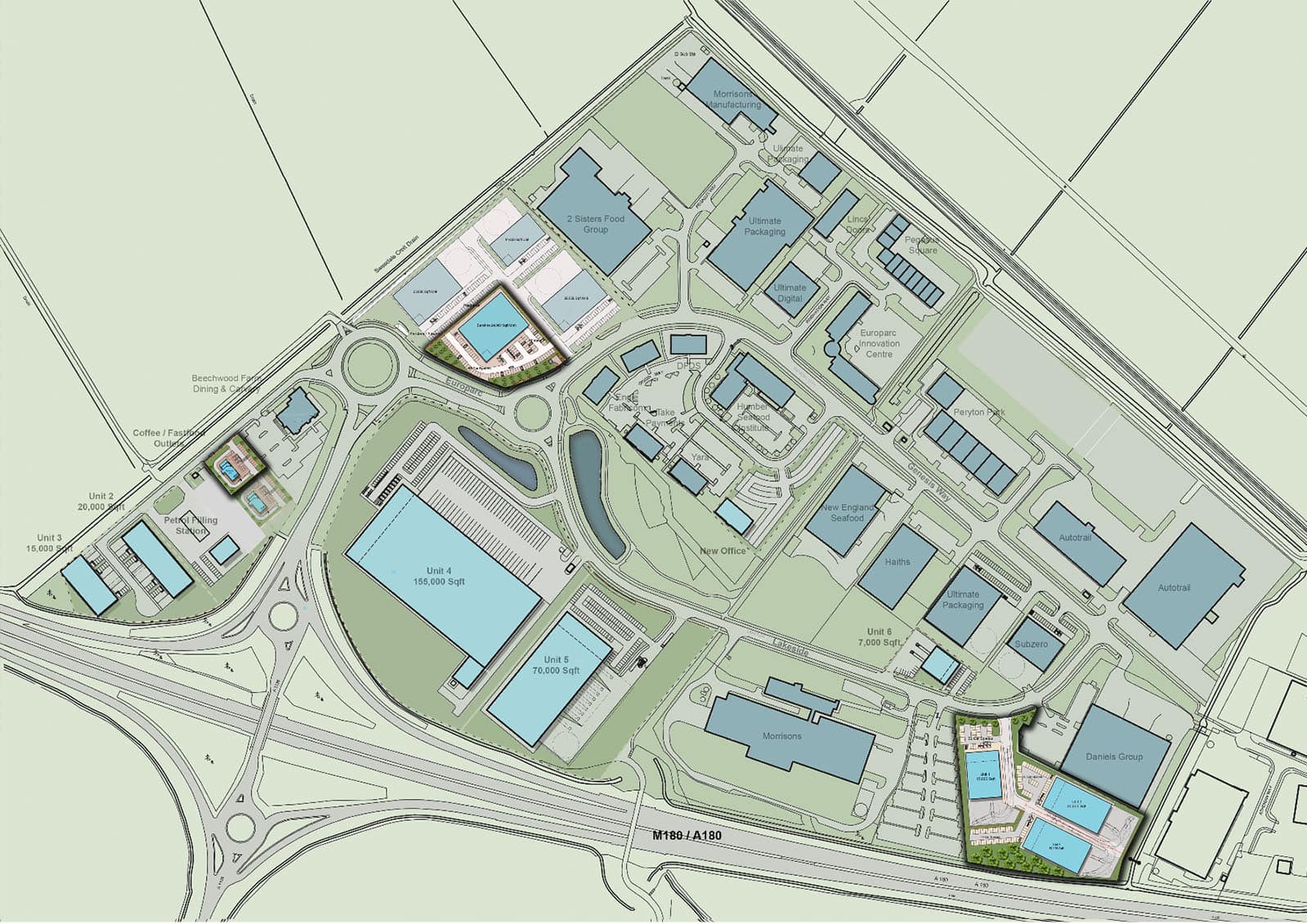 A NEW LOCATION FOR YOUR BUSINESS
Available Properties
We can support prospective businesses in delivering bespoke projects on 47 acres of available serviced development land as well as offering office space that caters for a range of industries.
Be sure to enquire about the available office space in our Innovation centre with prices starting from £360 per month.