An old prison has reopened its doors, with a new purpose.
Treadmills is a brand new £20 million development on the site of a former prison in Northallerton. A partnership between Hambleton District Council and Wykeland has created a stunning multipurpose location that preserves all 4 listed buildings and breathes new life into this area. Not only does this provide high quality business, entertainment and retail facilities but it's also securing the future prosperity of the town.
LOCATION
A place to spend time not do time
Situated only 2 minutes walk away from the high street of Northallerton, Treadmills is revitalising the centre of this market town. Its architecture comes from the historic listed prison buildings that have been on the site since 1788 and were used as a prison as recently as 2013. Its name comes from the multiple treadmills used in the correctional facility at one time.
Acquired first by Hambleton District Council in 2015, then by the Central Northallerton Development Company Limited (the partnership between Hambleton District Council and Wykeland) in 2017, it has since been transformed into a must visit location within Northallerton and the wider region.
What's here
Something for the whole community
There's a lot on offer at Treadmills. As well as brand new Lidl and Iceland supermarkets, and units for retail and hospitality including German kitchen manufacturer Kutchenhaus, the former main cell block and female wing now house the C4DI Northallerton innovation centre for tech startups, with a special focus around agriculture and food processing.
An Everyman cinema, the first cinema in the market town Northallerton, is also under construction and will offer entertainment to the community for years to come. The 3.5 acre site also includes over 125 parking spaces for shoppers and visitors. The cinema site will also feature 3 restaurants to the ground floor, one being regional business, Open Jar who will offer a classic menu and street food.

Campus@Northallerton is a unique partnership between Hambleton District Council, the University of Sunderland and York College that is based in one of the listed buildings at Treadmills. The old tenement building had been used as prison officer's accommodation, offices and latterly for prison education but has now been re-purposed for today's students in further and higher education.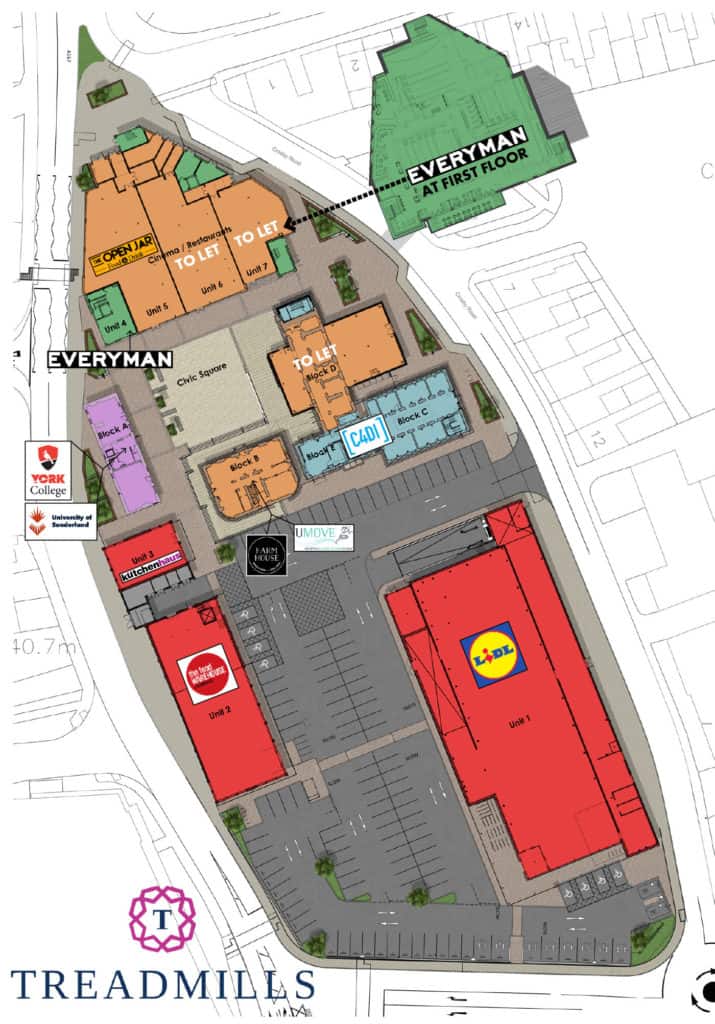 TREADMILLS TIMELINE
How it all started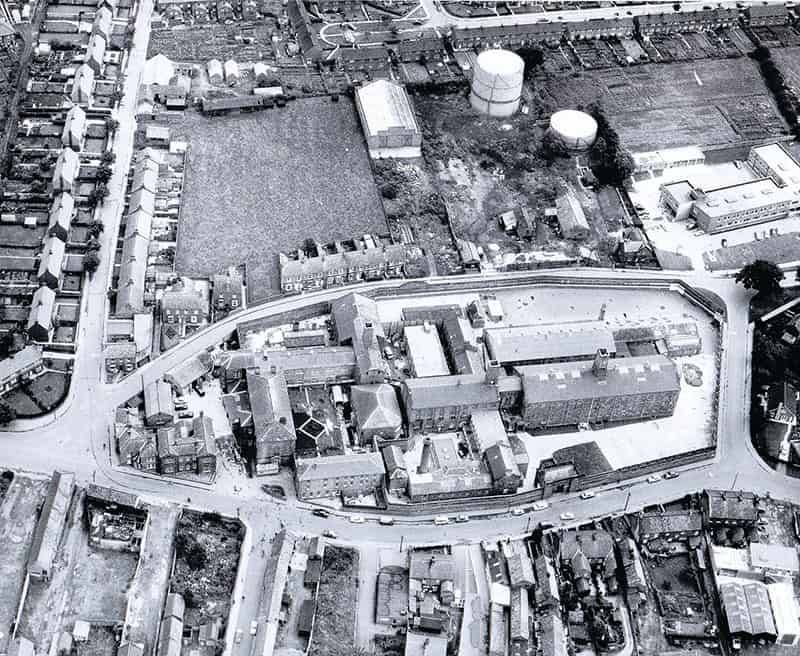 1780
Justices decide to close House of Correction in Thirsk and build a replacement in Northallerton. The Diocese of Durham donated an area of marshland east of the town's High Street. Prolific Yorkshire architect and engineer John Carr was engaged to design the new prison. Carr designed a quadrangle of four buildings, although at first only one was constructed. This initial jail (which cost 3,411 pounds 3 shillings and 11 pence) opened in 1788. The prison's female wing was built on the quadrangle's east side in 1818.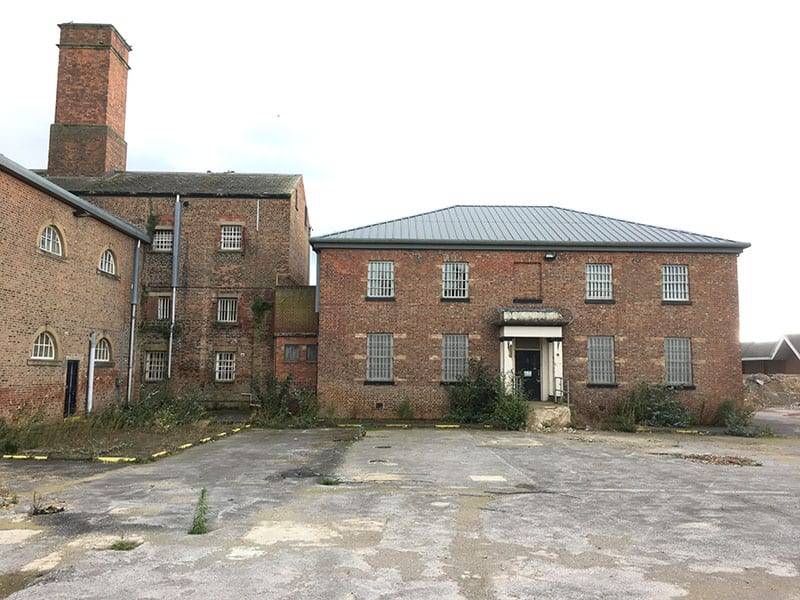 1820s
The prison Governor's house was built.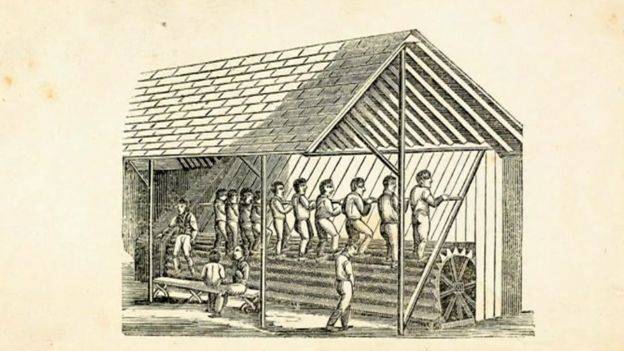 1820s
Treadmills were installed in the 1820s; at one time Northallerton had the largest treadmill in the world. Serious overcrowding in the late 1840s saw more building work - a new 14 foot wall was built and two new prison wings. The upper floor of the original prison wing was rebuilt and heightened to form a chapel to house 300.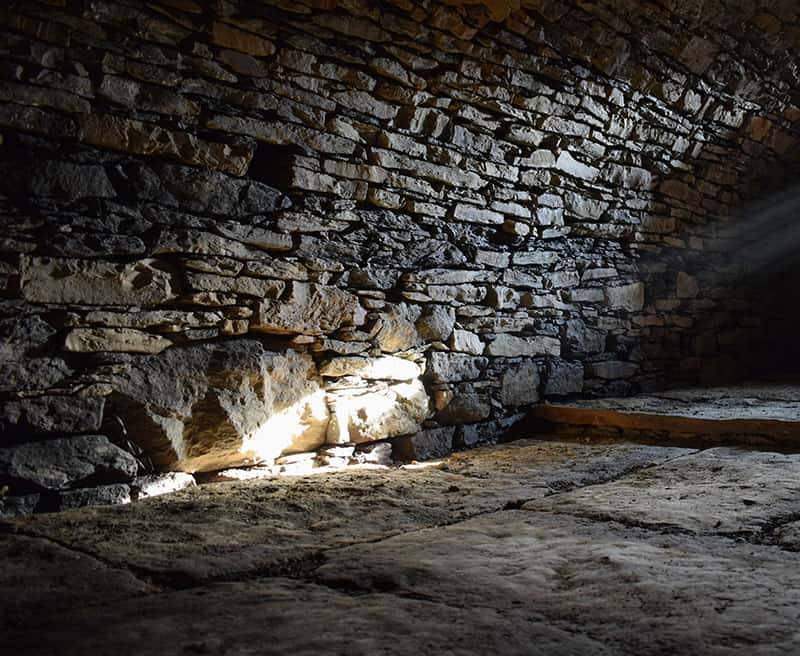 1890s
Northallerton was one of five prisons in England to take juveniles sentenced to more than one month's detention - and held separately from adults.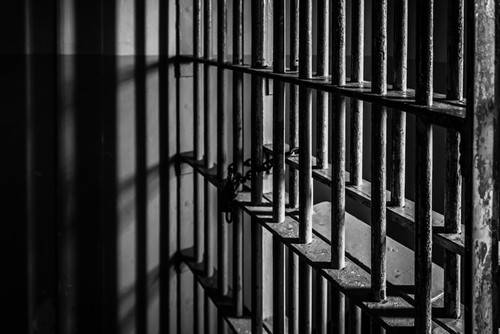 1900s
In 1904 the prison closed to female prisoners and by 1922 the prison closed due to a decline in crime.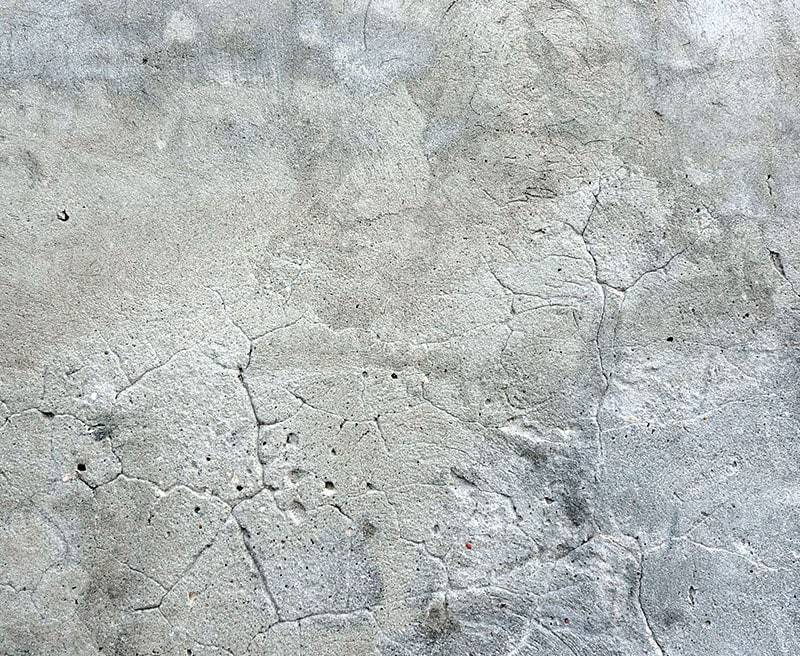 1930s
In 1939, it reopened as a training depot for Military Police. The cells were used as accommodation for trainees and it became a busy military location. In 1943 it became a prison once again as a Military Detention Centre.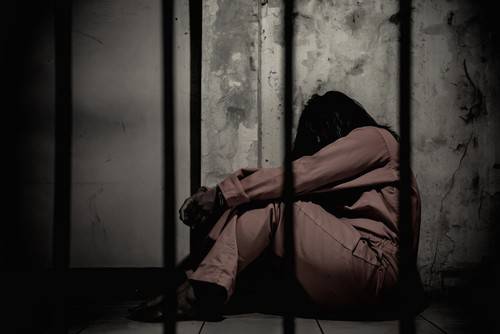 1960s
The prison converted to a Young Offenders Institution in 1964. By 1984, it was renamed a Remand Centre and was included in a list of the 21 worst performing prisons in the country.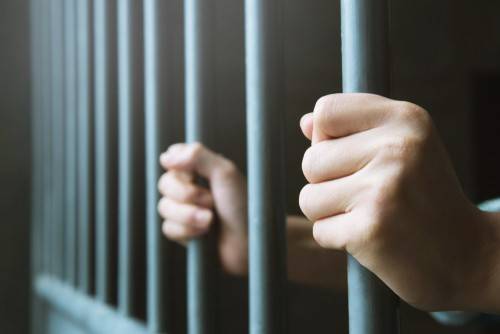 1990s
Marked changes took place with the emphasis on education and the new motto 'changing lives from the inside out' was adopted. By mid-90's the first female officers joined the staff.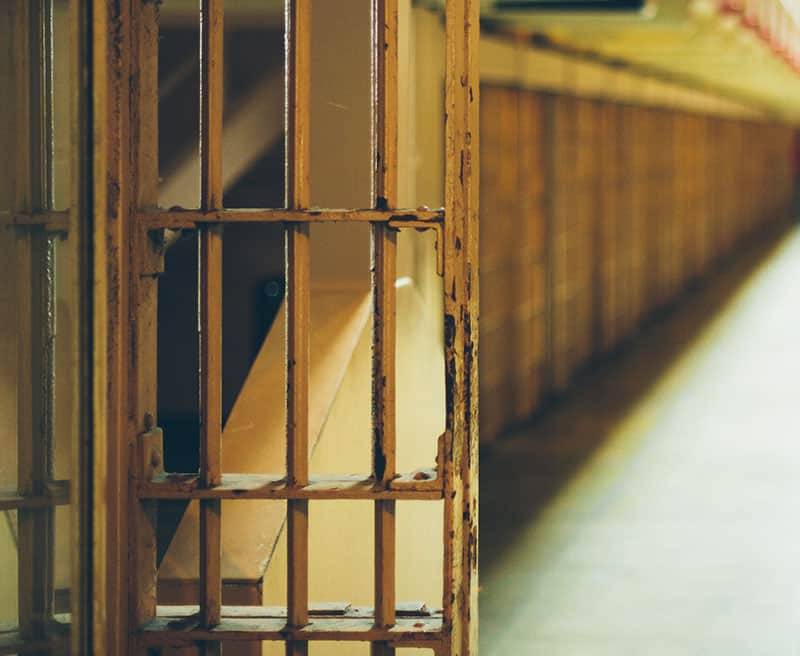 2000s
In 2001 the prison became a Young Offenders Institution again for young convicts from across the North East and Yorkshire. In 2010 it also became a prison for adults once again.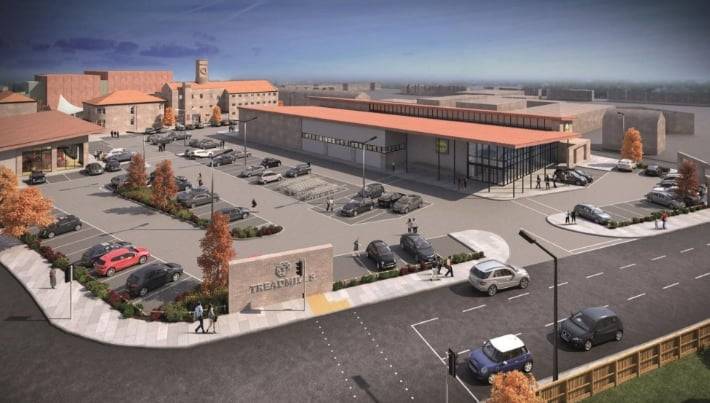 2010s
In 2013 the prison closed for the final time and the site was acquired by Hambelton District Council in 2015. In 2017 the site was transferred to Central Northallerton Development Company Limited which is a joint venture between Hambleton District Council and Wykeland Group. Planning permission was granted for the multi-million pound site in 2018 for retail, leisure and office with work starting on the site in 2019.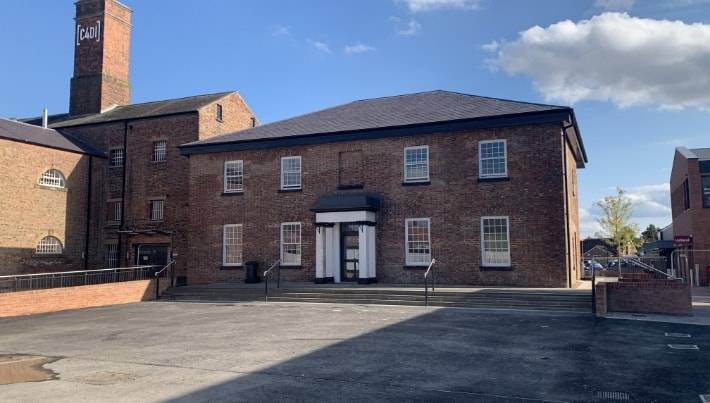 2020
Phase 1 of the development included three retail units which were completed in 2020. One of these units is occupied by supermarket group Lidl, whilst another is occupied by frozen food specialist Iceland. The final unit was occupied by German kitchen manufacturer, Kutchenhaus. Work also began on transforming the four out of five derelict prison buildings, including the new C4DI Northallerton which occupies a total of 7,000 sq.ft.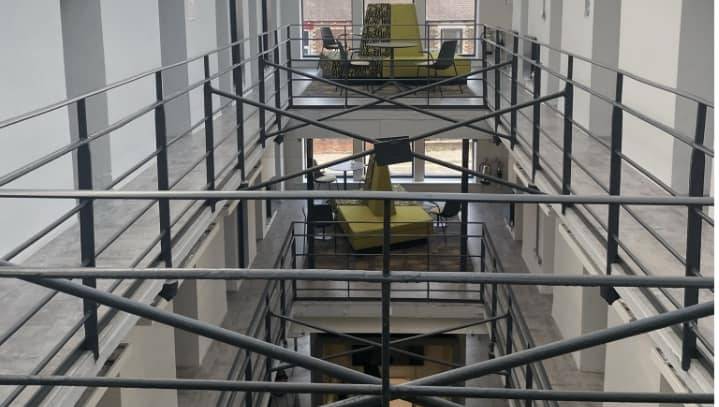 2021
2021 saw the virtual opening of the new £2.3m innovative digital business centre, C4DI Northallerton. Work also began on the final phase of the development - an Everyman cinema, 3 restaurants and a showpiece Civic Square.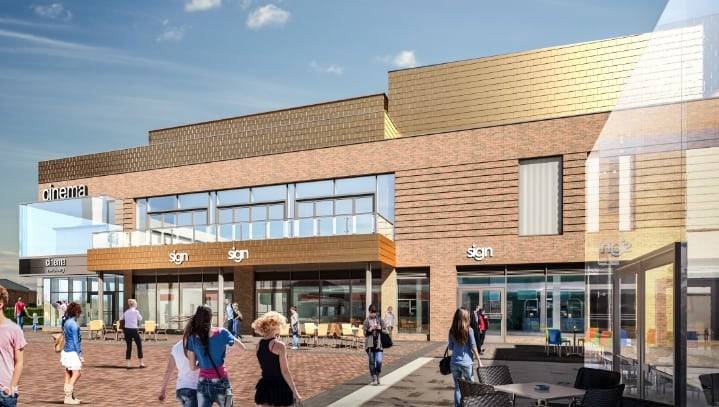 2022
In 2022 the final phase of the scheme is completed with the cinema opening in late 2022.
A NEW LOCATION FOR YOUR BUSINESS
Available Properties
Be sure to check out all that Treadmills has to offer and get in touch for information about business premises and the C4DI office space and community.