An exciting new café is bringing tempting flavours to the fast-growing community at Bridgehead business park.
Moe's Kitchen serves up a mouth-watering selection of freshly-made food to cater for the ever-increasing number of people working at the 50-acre site.
Developed by Hull-based regeneration company Wykeland Group, Bridgehead has rapidly become a bustling business hub with more than 800 people now working at the site in Hessle, East Yorkshire, close to the Humber Bridge and A63/M62 corridor.
The café's name stands for "Making Ordinary Extraordinary" and the owners are offering a high-quality and homemade eat in or grab-and-go service to workers at Bridgehead.
It's the latest venture by Dan Robinson, who is one of the team behind popular Hull venues Butler Whites on Humber Street in the Fruit Market and Larkin's on Newland Avenue. He has joined up with business partner Claire Pearson to launch the new venue.
Moe's Kitchen has opened within the ergo business centre, which will be launched in June. The café provides a selection of handmade pastries, luxury grilled and cold sandwiches, and tasty breakfasts, as well as catering options for corporate events and meetings.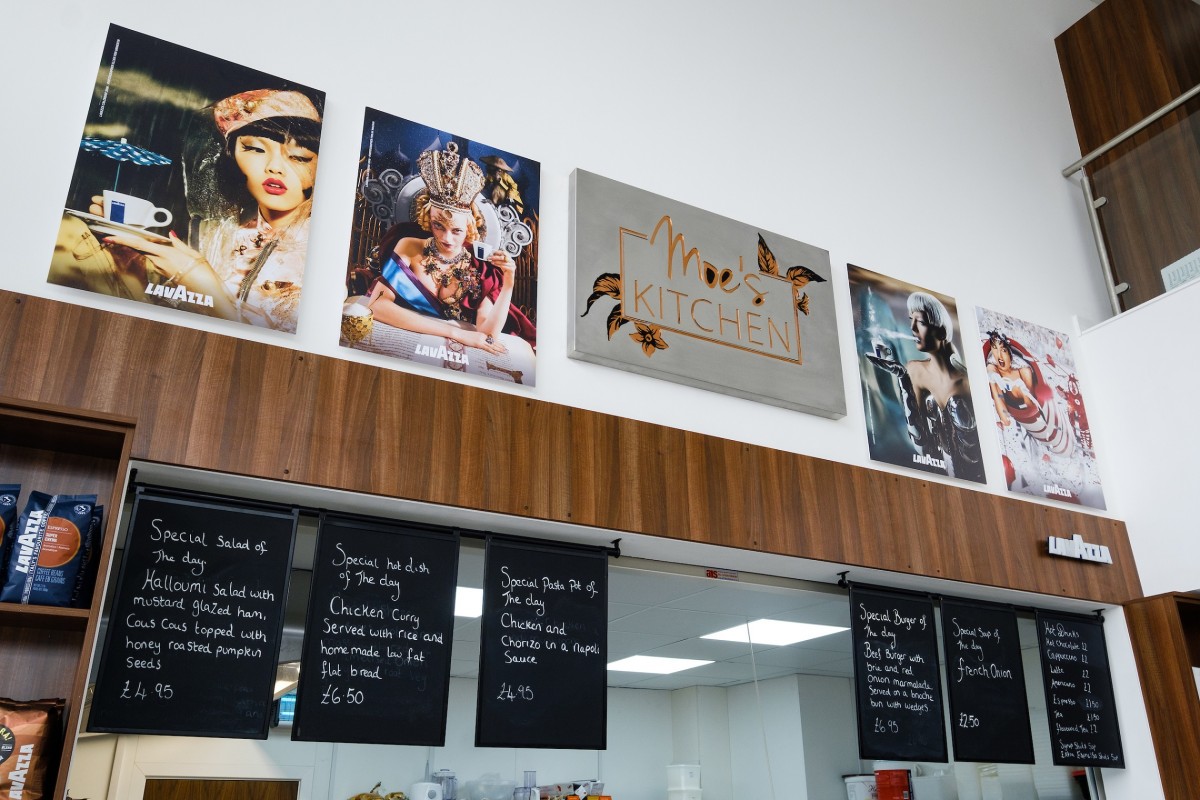 Mr Robinson said: "We're really excited to be here at Bridgehead, within the new ergo centre.
"The facilities are fantastic and it's great to be here right at the start, so we can evolve and grow as ergo develops and become part of a community within a community at Bridgehead.
"It's a fantastic opportunity for us that there will be so many potential customers within ergo and hundreds more on the doorstep. It's also good that we have time to get fully up to speed ahead of ergo's launch.
"As well as workers from Bridgehead, we're seeing a growing number of people from the wider area coming through the doors and we want to stress that Moe's Kitchen is open to all comers."
Ms Pearson added: "We offer a healthy and varied menu, as well as a range of really tasty weekly specials. All our food is handmade on site using fresh ingredients. We cater for breakfast, lunch and everything in-between.
"Neighbouring businesses can also take advantage of our outside catering service, which is perfect for meetings and client entertaining in the comfort of their own offices."
The £3.9m ergo centre has been developed by East Riding of Yorkshire Council in conjunction with Wykeland. It will be managed in partnership by the council and the University of Hull and provide versatile and flexible offices and workspaces for companies in the growing renewable energy and environmental technology sectors. The centre also offers excellent conference and training facilities.
East Riding of Yorkshire Council Business Centre Manager Amanda Hoggart said: "We're delighted that Moe's Kitchen will provide a first-class catering facility for ergo's users and add a major asset to the business park as a whole.
"We recognise that having a really good café within the building is very attractive to businesses considering locating to ergo. It's also a key element of the connected, collaborative business environment we have created within the business centre.
"It will become a place where people within ergo will gather to enjoy great food and meet up with their neighbours within the business centre and on the Bridgehead site.
"It's been very well received. People working at Bridgehead really appreciate that they now have a high-quality place on site for breakfast, brunch and lunch."
Companies based at Bridgehead include award-winning housebuilder Beal Homes; bathroom retailer Victoria Plum; the John Good Group of companies; laser firm Rofin-Sinar; office technology company IT@Spectrum; IT services and telecoms company The One Point; graphic services company SGS International; and the UK's leading gas storage business Centrica Storage.
John Gouldthorp, Asset Manager for Wykeland, said: "With so many high-calibre businesses now in residence at Bridgehead, there was a need for a top-quality food venue to cater for the hundreds of people who work there.
"The ergo centre adds another prestigious facility to the business park, with the added bonus of also providing an on-site catering and hospitality service for employees and companies across Bridgehead and further afield.
"It's yet another benefit for existing businesses and companies considering investing at Bridgehead and adds to the ever-growing sense of community on the site."
Employing four staff, Moe's Kitchen has indoor seating for 40 people with plans for further seating outside.
A tempting hot and cold sandwich menu includes marinated chicken, chorizo, mozzarella and fresh chilli jam; and Moe's Special – pastrami, ham, chorizo, pulled pork, gherkins, honey and wholegrain mustard mayo.
Breakfasts include eggs benedict royale; bubble and squeak; and the classic bacon sub roll. Moe Kitchen also offers a full range of gluten-free, vegan and vegetarian menu choices.
Weekly specials include chicken curry with rice and flatbread; halloumi salad with mustard-glazed ham and cous cous; and chicken and chorizo pasta.
Moe's Kitchen is open from Monday to Friday, 7.30am to 3pm. For more details visit www.herewemoe.com and follow the brand on social media @herewemoe. To book for corporate catering call 01482 333910 or e-mail info@herewemoe.com
The ergo centre will launch with an open day on Wednesday, June 6, during Humber Business Week. To book to attend contact Helen Wilson on 01482 391612 or e-mail helen.wilson@eastriding.co.uk
Businesses interested in finding out more about opportunities at ergo should contact Amanda Hoggart on 01482 880445 or e-mail ergoconnects@eastriding.gov.uk More information is available at www.ergoconnects.co.uk