The first residents have moved in at Hull's landmark Fruit Market development.
Husband and wife Steve Copeman and Claire Bell have become the first buyers to take the keys in a development hailed as the most exciting in Hull for decades.
The couple have bought a stylish, two bedroom apartment overlooking Humber Street in the regenerated urban village and are proud to be the first residents of a unique new community.
"It's quite an honour and makes it even more special," Steve said. "We knew we would be one of the first to move in, but didn't realise we would actually be the very first until our completion day.
"Every time we go to the Fruit Market we almost feel like tourists in our own city. So much is changing that every time we visit there is something new – you find a new café bar or a new view somewhere.
"We're looking forward to continuing to get pleasure from seeing the area develop, literally around us. You can really feel the potential of the place."
Steve and Claire's property forms part of Horner's Quarter, the first phase of the development, with more residents due to move in over coming weeks. Work is also well under way on the second phase, Martin's Quarter.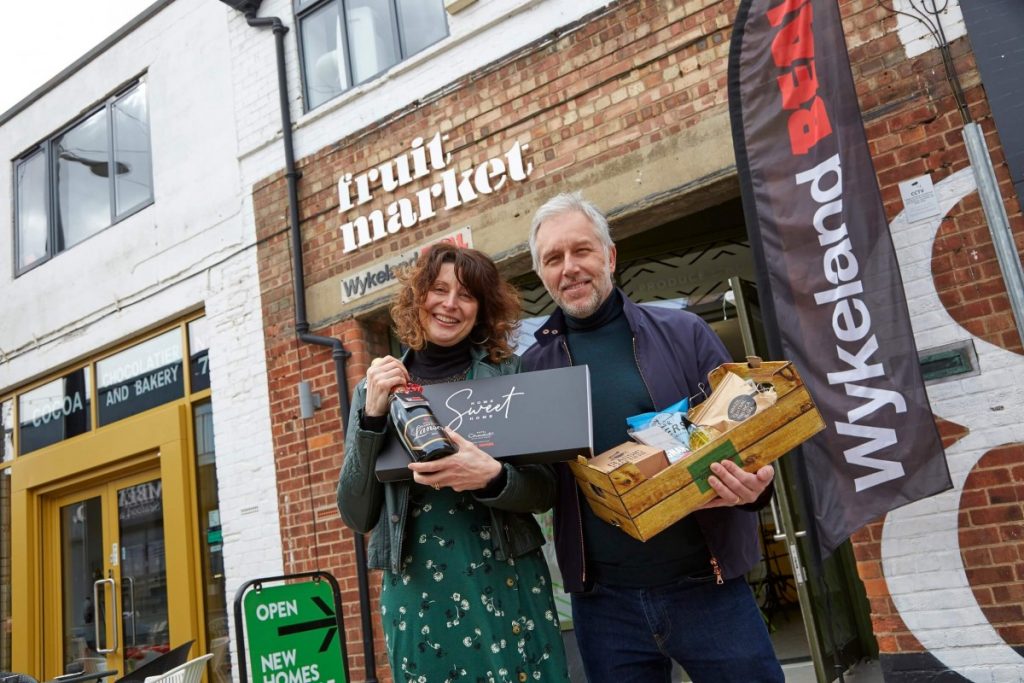 There will soon be more opportunities to become part of the new Fruit Market community, with the imminent release of properties in the third courtyard, Scott's Quarter, which will form the heart of the development. Scott's Quarter will feature two and three bedroom townhouses, as well as duplex and single storey apartments.
The development has generated huge interest, with almost half of the 105 properties already sold. Properties currently available range from a one bedroom apartment overlooking Humber Street, priced at £154,995, up to £262,995 for a large, three-bedroom townhouse in Horner's Quarter.
The homes are being built by Wykeland Beal, a joint venture company formed by commercial developer Wykeland Group and housebuilder Beal Homes. The two long-established local businesses are working in partnership with Hull City Council to deliver the £80m transformation of the Fruit Market in Hull's biggest urban regeneration scheme.
Steve owns Hull roofing firm L. A. Hall, which has worked on Beal Homes schemes for more than 20 years, and the company is among the sub-contractors working on the Fruit Market development. Claire is one of the city's army of culture volunteers and has supported a number of events in the Fruit Market.
Steve added: "I'm Hull born and bred and I know the Fruit Market area has always had the potential to be fantastic.
"Once I knew what was planned and that Beal Homes was involved, I felt I needed to be part of it, both professionally and personally. It was an opportunity not to be missed. We think it will be a great place to be.
"We really embraced the City of Culture year in 2017, seeing as much as we could and enjoying new experiences, and so much of that was around the Fruit Market area. It was such an exciting year and we're sure the Fruit Market will be centre of things for years to come."
The couple have their main home in the Avenues area of Hull and plan to use the apartment as a bolthole for themselves and to make it available to family and friends.
Steve said: "The Fruit Market has a lovely, relaxed continental feel. With the river and the Marina it reminds us of Copenhagen, which is one of our favourite places.
"It's a really vibrant area with lovely restaurants, café bars and galleries all around. It ticks every box for us."
The Fruit Market development is creating a unique new community offering the contemporary lifestyle and energetic vibe seen in the most vibrant areas of other major cities, with independent shops, restaurants and galleries just yards away from the new homes.
The complete scheme comprises 93 mews-style homes around the four private courtyards, all with secure parking, together with the 12 stylish one and two bedroom apartments overlooking Humber Street.  Properties within the four quarters are mostly townhouses, arranged over two and three storeys, with a blend of traditional and contemporary styles creating a highly attractive new neighbourhood amid the cobbled streets of the Fruit Market.
Every property in the Fruit Market development has been designed for modern life, boasting spacious, contemporary living spaces together with the opportunity for buyers to choose their own fixtures, fittings and finishes from an extensive, high-quality range of options. The homes offer the perfect balance of luxury, practicality and energy efficiency.
Steve and Claire's high-spec apartment has two bedrooms and a stylish open plan kitchen and living space with large feature windows offering great views of Humber Street. The first-floor property also has fitted wardrobes in the master bedroom, a stylish fully-tiled bathroom, Neff appliances and flooring throughout.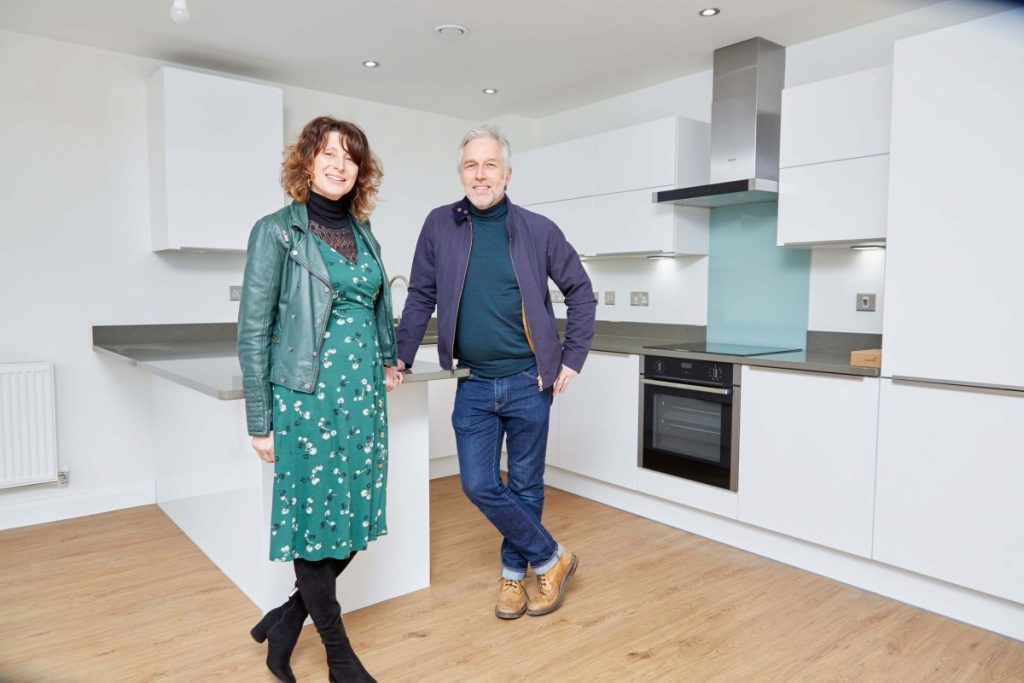 Steve said, although his company has worked for Beal for so long, he did not appreciate how much effort was put into providing a bespoke service to every buyer.
He added: "We had a pre-meeting of two or three hours and then spent a full day just choosing fixtures and fittings, even down to the position of light fittings. At that stage we could even have moved the walls, although we didn't do that as we were very happy with the layout.
"It's incredible the lengths they go to, to give the customer exactly what they want and make every property individual to the buyer. We're absolutely delighted with our apartment – it's fantastic and everything we hoped it would be."
Sue Waudby, Sales and Marketing Director of Beal Homes, speaking on behalf of Wykeland Beal, said: "We would like to congratulate Steve and Claire on becoming the first residents of our Fruit Market development. We're sure they'll love the property and being part of the Fruit Market community.
"The first quarter is now nearing completion, so we'll see several more buyers moving in over coming weeks. It's exciting to see it all coming together."
Prospective buyers can find out more about owning a new home in the Fruit Market by visiting the marketing suite in Humber Street, which is open from Thursday to Monday, 10am-5pm; calling Sam Cody on 01482 323182 or 0800 612 1216; or e-mailing info@beal-homes.co.uk
Further information is available at www.fruitmarkethull.co.uk/live
Mrs Waudby added: "We've had so much interest in the Fruit Market development and we expect that to increase even further now that residents have started to move in.
"We'll soon be relocating the marketing suite to a highly-visible building on the corner of Queen Street and Blanket Row, which we expect to result in a further surge in enquiries.
"We would urge anyone interested in being part of this unique new urban village to get in touch with us without delay to avoid disappointment."