Budding entrepreneurs from an inner-city primary school are celebrating the results of an exciting project that turned their creative business ideas into 3D prototypes.
The year-long project saw children from Chiltern Primary School in Chiltern Street, west Hull, invent their own products and pitch their business ideas to a Dragons' Den-style panel of local business leaders.
The initiative, called "Go See! Go 3D!", was commissioned by Wykeland Beal, the joint venture company formed by regeneration company Wykeland Group and housebuilder Beal Homes to transform Hull's Fruit Market waterside district.
Working with the project's artist Simon Crook, mentors from Wykeland Beal, and experts from the Centre for Digital Innovation (C4DI) tech hub in the Fruit Market, the children came up with innovative product ideas. They also designed and created 3D printed models of their ideas, in a project inspired by the creativity driving the regeneration of the Fruit Market.
The ambitious project has given Chiltern Primary School and its pupils the opportunity to benefit from Hull's largest urban regeneration scheme, by helping the children to develop confidence, ambition, communication, teamwork and relationship skills.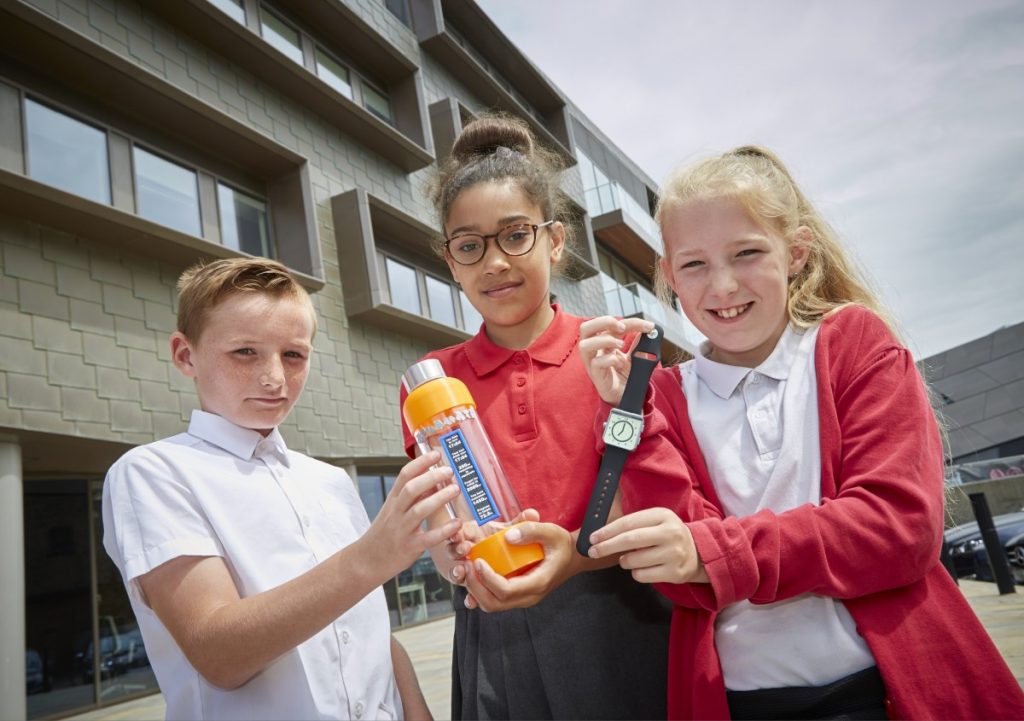 The four teams of Year 5 pupils (aged nine and 10) delivered their proposals and prototypes to the panel of "Dragons", made up of Wykeland Group Managing Director Dominic Gibbons; Beal Homes Chairman and Managing Director Richard Beal; Marketing Humber Managing Director Diana Taylor; and retail and tech entrepreneur Jonathan Elvidge at C4DI.
The imaginative inventions pitched to the Dragons were:
Aquamate, a smart water bottle that monitors how much water has been consumed and reminds people to drink more;
KidBit, a tracker watch for children to wear so that they can be found if they get lost;
Robot Reader, a multi-lingual, robot-style reading device that will read books out loud to children;
and SnakAttak, a barcode scanning watch designed for people with health problems, to help track what they eat each day.
Mr Gibbons said: "I was incredibly impressed by the research behind the ideas and the quality of the presentations. All the teams deserve a huge well done.
"The children have all worked really well in their teams to come up with these products, which is so important in whatever you're doing – whether it's at school, playing sports or in the world of work.  
"It's interesting to see all the inventions relate to health and wellbeing, which shows the children are very aware of how important this is to people of all ages. You can see how they could be of real benefit to society and products that people would actually want to buy."
Results of the panel's deliberations were unveiled in a celebration event at the school attended by the children, parents, mentors and the Dragons.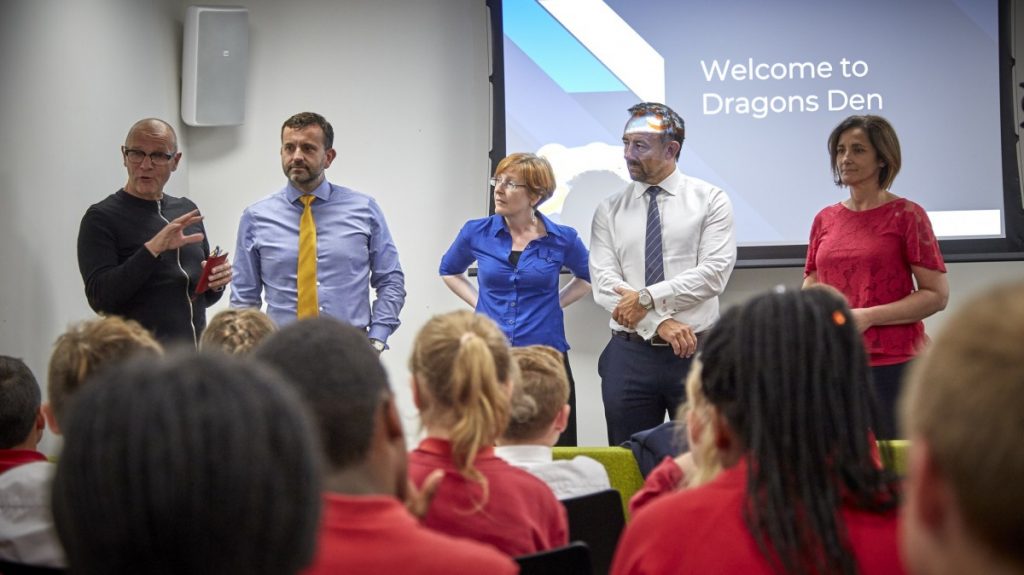 The team behind the Robot Reader were overjoyed to be crowned as winners, with the reward being a family meal voucher for each team member to be enjoyed at Bert's Pizza and Gelato restaurant in the Fruit Market.   
All four teams received investment from the Dragons to produce a poster advertising their product and every child was awarded a certificate of achievement.
Mr Beal said: "The teams worked so hard and came up with some wonderful inventions. We found it incredibly difficult to make a decision between the products pitched to us.
"It's been an inspiration to see the children grow so much in confidence from when we first started the project. The children, their parents and the whole school should be very proud – they're all winners.
"We hope this project has sown a seed in these children of how exciting the world of business is."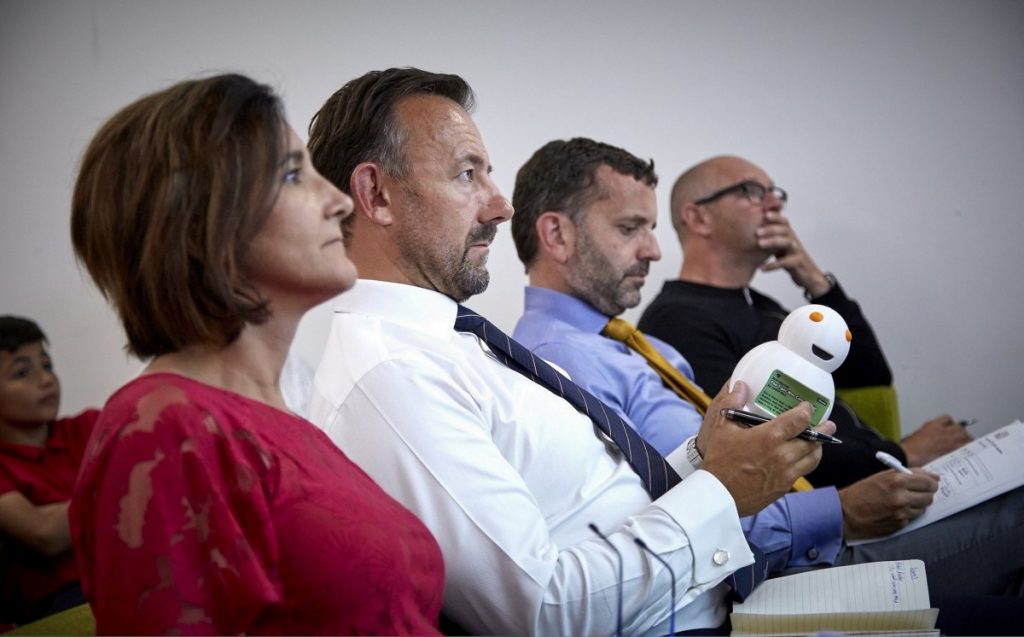 Chiltern Primary Headteacher Lynne Clarke said: "This project has made such a difference to the children involved.
"Six months ago, they were really nervous about their first presentations but they've absolutely flourished and have been buzzing about the whole experience.
"The enthusiasm about Go See! Go 3D! cascaded throughout the rest of the school. This project hasn't just inspired the 16 children directly involved, it's benefited all the pupils."  
Elaine Burke, Community Engagement Consultant for Wykeland Beal, said: "This project was about the power of having a great idea and then taking the steps to make it happen.
"We want this project to inspire the children as they grow up, so they will always know they have the power to shape their futures."
One of the children in the team behind the SnakAttak invention, Arturs Skobelevs, 10, said it was exciting to work with business people.
Arturs said: "It was really good extending our ideas into real life and hearing about what other people thought of our products. I think all of us were really lucky to take part in the project."