A distinctive daytime delicatessen and evening wine bar and bistro is to open in Hull's resurgent Fruit Market quarter after £250,000 was invested to restore a crumbling former fruit and veg warehouse.
Joint venture development company Wykeland Beal, which is part of the Fruit Market LLP with Hull City Council, has carried out a comprehensive conservation project to save No. 59 Humber Street from dereliction and give it an exciting new lease of life.
Now the building is to become the latest high-quality venue to open in the Fruit Market as the waterfront quarter becomes a magnet for investment and innovation.
The building is due to open in July as J. Johnson, named after the late Jack Johnson, a legendary figure from the decades when the Fruit Market was the home of the city's wholesale fruit and veg trade. Jack Johnson owned the building with his brother Percy when it was last in use.
The two-storey building dates back 170 years and was originally a chapel. It had been disused for 10 years or more and Wykeland Beal faced numerous challenges in reversing the ravages of time and making it fit for purpose, while retaining its character.
The project is the most extensive delivered so far on a single building by Wykeland Beal as part of the ongoing regeneration of the Fruit Market and took place over a four-month period.
The works were carried out on behalf of Wykeland Beal by Hull-based Voase Builders, a company specialising in conservation projects, and local sub-contractors, under the project management of Daniel Bower of the Hessle-based LHL Group. They included:
Removal of asbestos in the roofing and former ripening rooms;
Clearance of huge volumes of pigeon waste;
Construction of a new steel skeleton supporting the first floor, replacing the previous rotting timber structure;
A new Kingspan insulated vaulted roof;
New windows throughout;
A new-build rear extension to house a food preparation area and toilets;
Creation of a south-facing roof terrace above the extension;
And a bi-fold glazed frontage opening out onto Humber Street.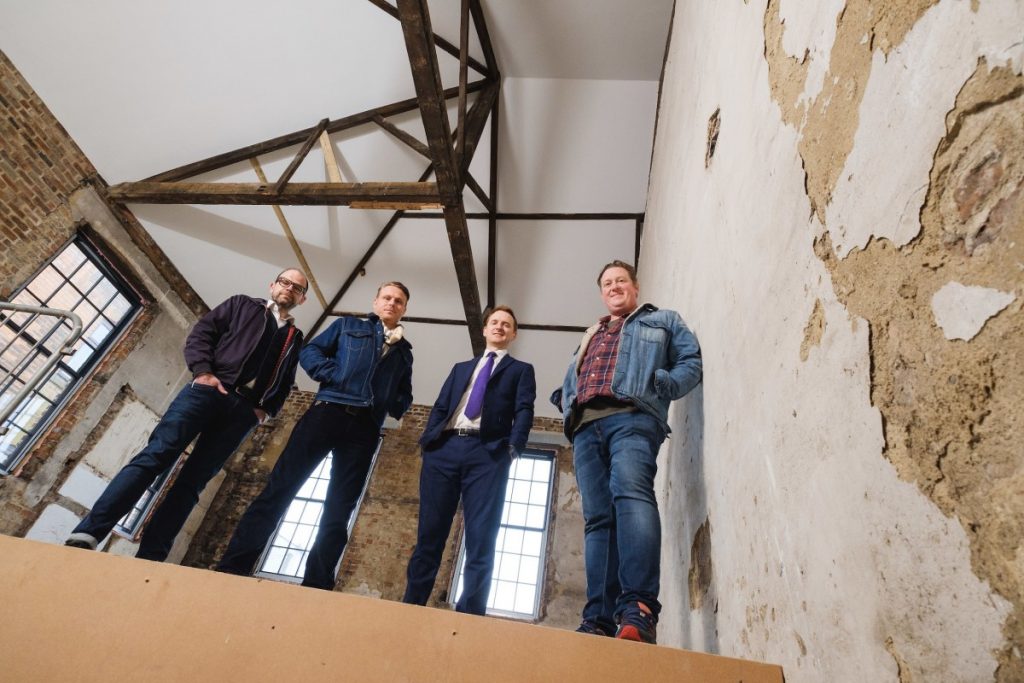 Tom Watson, Development Surveyor at Wykeland, speaking on behalf of Wykeland Beal, said: "The repair and refurbishment of number 59 has been quite a challenge. It really was in a terrible state and in many ways this project amounted to a complete rebuild, while retaining the shell of the building.
"The roof was dilapidated, exposing the building to damage from rainwater and the elements generally and the upper floor was absolutely smothered in pigeon droppings.
"The team from Voase have done a great job and the end result is that we have been able to rescue a building that was nearing the point of no return.
"It demonstrates our commitment to preserve, restore and refurbish buildings in and around Humber Street, whenever structurally and economically viable."
J.Johnson will be the latest venue from the owners of one of the pioneering venues in the reinvention of the Fruit Market. Business partners Chris Eastaugh, Jason Gittens and Dan Robinson have established Butler Whites – also named after former fruit and veg traders – as one of Hull's best eateries, offering casual, bistro-style dining, building on the reputation they established with Larkin's bar and restaurant and the former Henry Yeast bistro and bar, both in Newland Avenue.
Now they will be establishing another, complementary venue in one of the street's oldest and most characterful buildings.
Mr Eastaugh said: "We were first shown the building about a year ago when it was heavily invested with pigeons but, despite that, I just fell in love with it. It's so original, with so much heritage.
"Back then it was like walking into a horror film – we had to get fully kitted up to enter. The stairs were falling down, the ceiling was coming through, there were holes in walls, every single window was smashed to pieces and the back of the building needed fully repairing. That's where the extension has gone in to provide the space to make the business viable."
He said Wykeland Beal's restoration of the building has been "top notch".
He added: "They were as passionate about the building as we were and we have worked so well with them to realise our concept for the building. They have followed through on everything and to a very high standard.
"We couldn't have asked for any more and all the work carried out has been really sympathetic to the character of the building. Now we will be putting something new into something old and providing a glimpse into the past."
The £80m transformation of the Fruit Market is being driven forward by Wykeland Beal, the joint venture formed by commercial developer Wykeland Group and housebuilder Beal Homes, working in partnership with Hull City Council.
J.Johnson will be the latest exciting investment in an area which was largely derelict just a few years ago and is now becoming a vibrant new community, featuring creative businesses, restaurants, bars, galleries and shops.
Hull's biggest urban regeneration project also involves a high-quality development of mews-style homes arranged around four private courtyards. The residential development will bring hundreds of residents into the Fruit Market, giving a further impetus to the area's rejuvenation.