Construction has begun on Hull's most eagerly-awaited new homes.
Foundations are in place and the first bricks have been laid at the Fruit Market residential development, which forms a major part of the exciting urban village taking shape on the city's waterfront.
The start of building work means the first residents are expected to move in by Christmas, with the remainder of properties in the first of four quarters that make up the development set for occupation by spring next year.
With construction continuing across the site, the £17m development is expected to be completed by summer 2020.
The homes are being built by Wykeland Beal, the joint venture company formed by regeneration company Wykeland Group and housebuilder Beal Homes. The two long-established local businesses are working in partnership with Hull City Council to deliver the £80m regeneration of the Fruit Market waterside district.
Richard Beal, Chairman and Managing Director of Beal Homes, speaking on behalf of Wykeland Beal, said: "It's really exciting to see the site a hive of activity and the first properties starting to rise out of the ground. It's now full steam ahead to deliver the first development of its kind within the city.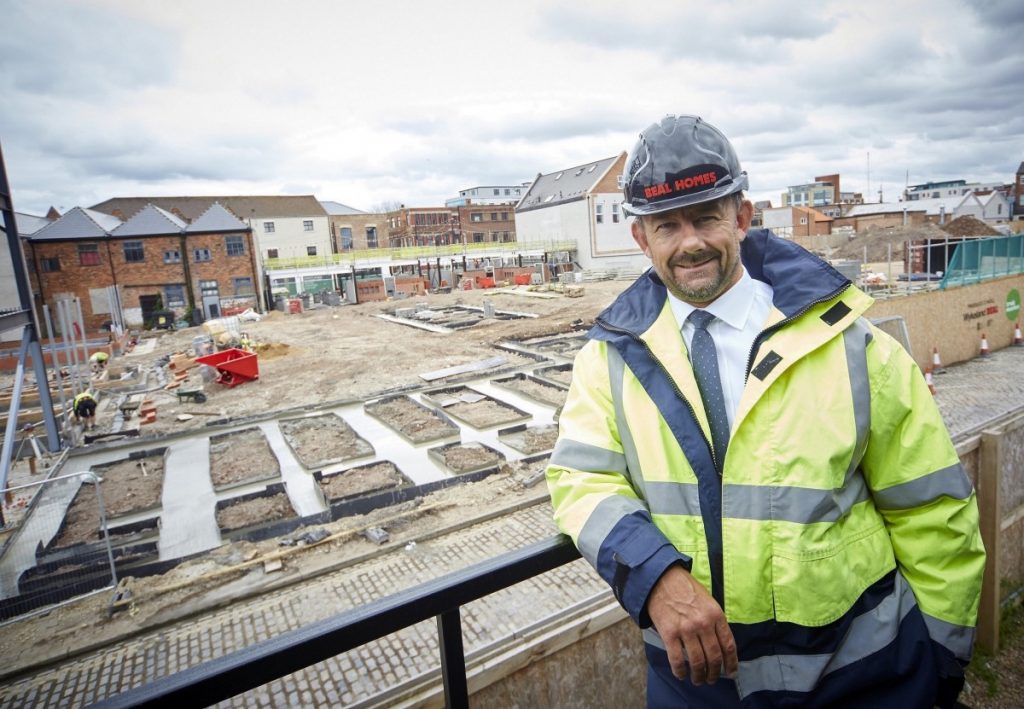 "The Fruit Market residential development will form an essential part of Hull's first urban village. People are really excited by the opportunity to own a high-quality new home within an area with so much character and now buzzing with investment and creativity.
"Buyers will be able to enjoy being part of a unique community in the historic heart of Hull, with the city's beautiful waterfront and everything they need right on their doorstep.
"Our vision for the Fruit Market is for it to be a vibrant place where people live, work and play and all the elements are now coming together to create something very special indeed."
The development will feature 101 two and three bedroom homes arranged in mews style around four private courtyards, all with secure parking. The scheme has attracted unprecedented demand, with more than 40 per cent of the properties already sold following a hugely-successful launch event earlier this year.
The properties are mostly townhouses, arranged over two and three storeys, as well as varying styles of apartments, with a blend of traditional and contemporary styles creating a highly attractive new neighbourhood amid the cobbled streets of the Fruit Market.
Prices for properties released so far range from £149,995 for a two-bedroom apartment up to £274,995 for a large, three-bedroom townhouse.
Properties in Horner's Quarter and Martin's Quarter have been released, with only a handful still available. The next release, of properties in Scott's Quarter, is due soon, leaving only Finkle Quarter to be released later this year.
As well as foundations and brickwork for the first homes, early works on the site include erection of the steel frame of a landmark building on the corner of Queen Street and Blanket Row which will feature a ground floor commercial unit and three floors of residential accommodation above.
Also taking shape are four three-storey buildings on Humber Street which will have retail units on the ground floor and apartments above, filling in a gap in the street scene caused by the demolition of buildings that were beyond repair.
The start of construction follows extensive archaeology and preparatory works in readiness for the new homes to begin to take shape.
Beal Homes Construction Director John Goodfellow said: "We've faced some difficult ground conditions and the challenge of demolition and site preparation in an area very close to historic buildings in Humber Street.
"All that important work has taken place over the past few months, paving the way for building to now start in earnest.
"We'll have up to 100 construction workers on site at peak times, so buyers can be assured that we are moving forward as quickly as possible while, of course, maintaining the exceptional quality that Beal homes are renowned for."
Start of work on the residential development is the latest major landmark for the exciting transformation of the waterside quarter, which for decades was home to the city's fruit and veg trade. The new homes will complement an ongoing wave of investment which has seen a largely derelict district become a vibrant new community, featuring independent, creative businesses, restaurants, bars, galleries and shops.
Prospective buyers can find out more about owning a new home in the Fruit Market by visiting the marketing suite in Humber Street, which is open from Thursday to Monday, 10am-5pm; calling Emily Douglas on 01482 323182; or e-mailing info@beal-homes.co.uk
Further information on new homes in the Fruit Market is available at www.fruitmarkethull.co.uk/live