Work has begun on a new building that will provide a major fresh stimulus for the fast-growing tech sector in Hull.
The new three-storey sister building for Hull's Centre for Digital Innovation (C4DI) will create much-needed space for tech start-ups and rapidly-growing established digital businesses.
It underlines the transformational impact the first C4DI building has had as the focal point and flagship for the digital economy in Hull and the wider region.
The 20,000 sq ft building developed by regeneration company Wykeland Group will expand Wykeland's @TheDock tech campus in the Fruit Market creative quarter, of which C4DI is the centrepiece.
It will create around 160 new highly-skilled and highly-paid tech jobs and is supported with £1.294m from the Humber's Local Growth Fund allocation, secured from the Humber Local Enterprise Partnership (LEP).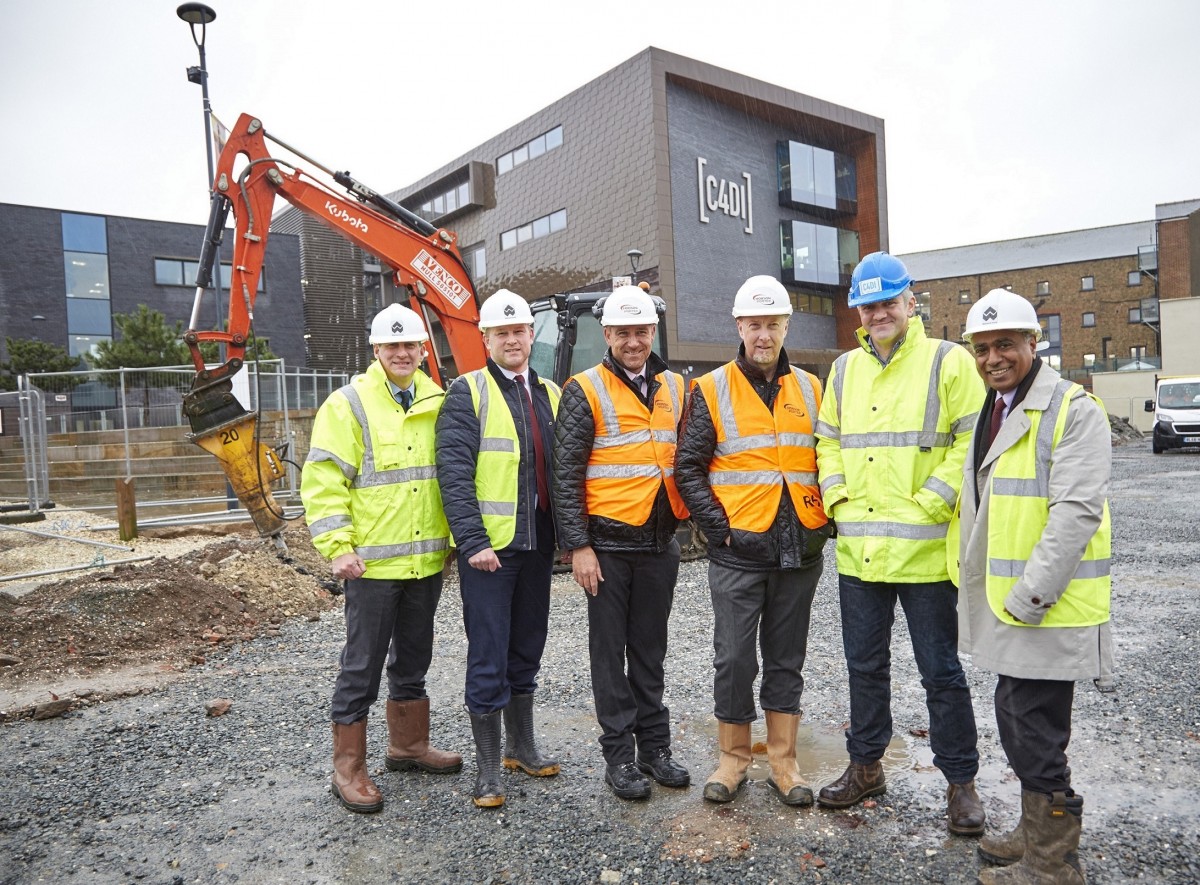 @TheDock is recognised as one of the UK's leading digital innovation clusters and as a thriving hub of tech talent. It is fully occupied, with many tech companies growing fast and in need of more space and others keen to benefit from the unique collaborative community.
David Donkin, Property Director of Hull-based Wykeland, said: "This new building will be much more than a place of work.
"It will complement the existing C4DI building and create the capacity and facilities to accelerate further the exciting growth of the tech economy in Hull and across the wider region.
"The building will offer a range of office sizes to meet pent-up demand from start up, scale up and established technology businesses that need space to grow, as well as shared spaces that support the spirit of community that enables creativity to flourish.
"As with the original C4DI it will be a place where tech businesses and traditional companies meet, collaborate and innovate."
C4DI opened four years ago and has been a powerful catalyst for the growth of the tech economy in Hull.
Around 200 start-up and scale-up tech firms are now based at C4DI or closely linked to it, as well as hundreds of digital specialists and freelancers. C4DI's tech experts deliver projects for more than 50 non-tech member companies, including global organisations such as Siemens, RB and Nestle.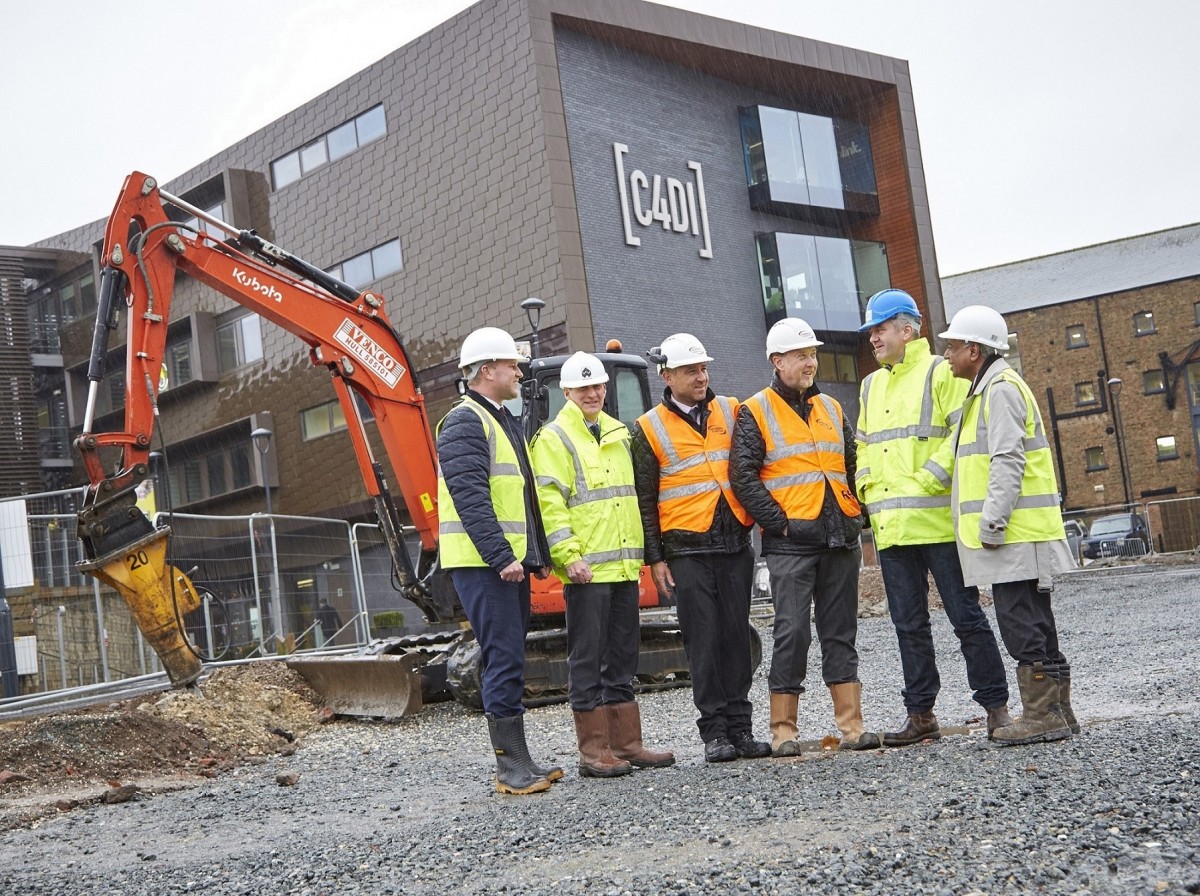 World-class businesses like Saab have also been brought to Hull by C4DI and @TheDock, while safety business Arco, one of Hull's longest-established companies, chose the tech campus for its digital transformation team.
The success of the Arco digital team led to the company deciding to relocate its head office and 550 staff to the Fruit Market in a showpiece new 58,500 sq ft building, which is under construction on a neighbouring plot in the Fruit Market. The Arco offices will be the largest built for a single user in Hull for more than 50 years.
The new Arco head office is part of a £16m development which also includes a 350-space car park, to support Arco, growing tech businesses and the continued growth of the Fruit Market.
The new building is the latest phase of the successful @TheDock tech campus, developed by Wykeland on a site which was derelict just a few years ago.
Wykeland has appointed Hull-based Hobson & Porter as the Principal Contractor for the project and 60 jobs will be created during the construction phase. The building is due to be completed by next summer and will have ground-floor parking for 25 cars, including two electric car ports, and a secure cycle unit, with two floors of offices and co-working spaces above.
John Connolly, Managing Director of C4DI, said: "The start of construction on this new building is exciting and very welcome.
"It will solve two challenges for us – firstly where to house businesses that, through investment or securing new contracts, have outgrown our current building and need a larger space, and, secondly, where to accommodate earlier stage businesses that are ready to move from our co-working space and take their first steps in growing their businesses.
"The development of this building highlights the growth of the sector and how the infrastructure, support and connectivity we have in Hull have accelerated the growth of businesses here in ways that would not have been possible elsewhere.
"This investment demonstrates again Wykeland's commitment to driving the growth of the tech sector in Hull. Increasing the size of the tech campus in such a short space of time also cements the city's status as having one of the fastest-growing tech innovation incubators in the UK."
Kishor Tailor, Chief Executive of the Humber LEP, said: "We are thrilled work is beginning on constructing the next phase of the @TheDock tech campus and even more pleased to be able to allocate funding to support C4DI to expand, enabling even more space for established digital and technology SMEs to expand and grow.
"This sector is a hugely important part of the business landscape in the Humber and its potential to influence future economic growth. In our Industrial Strategy we have cited the importance of the work of C4DI as a support framework for businesses in the region.
"It is therefore extremely important to ensure we are building on existing measures to provide support for the region's digital firms and as such we are delighted to support this project."
Richard Hunter, Managing Director of Hobson & Porter, said: "We are delighted to be back on site constructing the next phase of the @TheDock development. As a Hull-headquartered business, it's always a great privilege to construct iconic buildings in our home city.
"The change in the Fruit Market area is phenomenal and is testament to both private and public sector efforts to realise the vision. We can't wait to see it take shape."
Wykeland has also secured planning permission for a further building to complete the @TheDock development, with construction to take place in due course.
The success of @TheDock and C4DI have played a key part in the reinvention of the Fruit Market as a vibrant commercial, cultural and residential community. The transformation of the Fruit Market is being driven forward by Wykeland Beal, the regeneration company formed by Wykeland and Beal Homes as part of the Fruit Market LLP joint venture with Hull City Council.
Recently Wykeland was recognised for its critical role in the development of the local digital economy with the Outstanding Contribution Award at the Hull and Humber Tech Awards 2019.