The £17m Treadmills development of the former Northallerton Prison site is taking shape with the steelworks now rising as part of the first phase of the regeneration project.
Leeds-based contractor Castlehouse Construction began work on site on phase one of the scheme in October 2019 to begin the transformation of the redundant 230-year old major landmark into a new mixed-use destination incorporating retail, leisure and office space.
The project is being driven forward by the Central Northallerton Development Company Ltd (CNDCL), a joint venture between Hambleton District Council and leading Yorkshire developer Wykeland Group.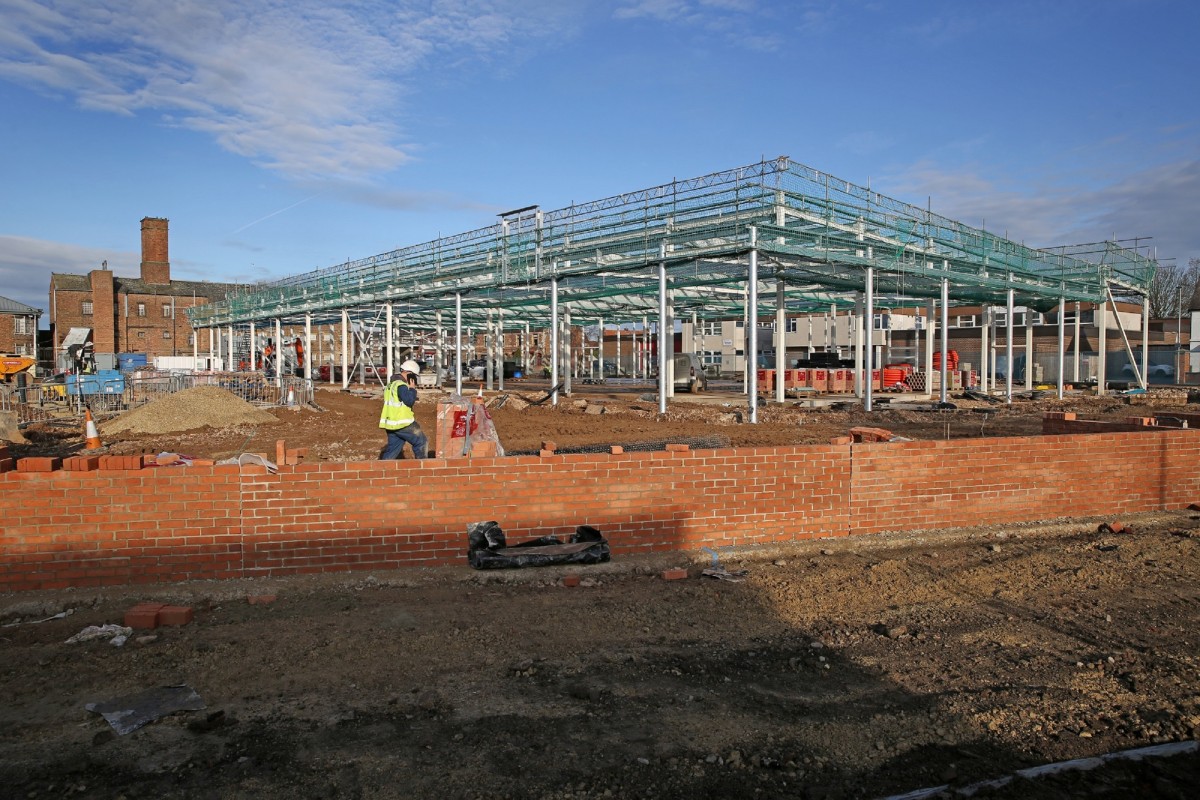 The initial phase will bring forward three retail units as well as a car park on the south side of the site.
The two larger retail units will be occupied by supermarket group Lidl, the retail anchor for the Treadmills scheme, and frozen food specialist Iceland. A further retail unit of 1,300 sq ft is also available to complete the southern part of the development.
First phase construction is expected to be complete by early summer 2020.
The northern part of the site, including five Grade II listed former prison blocks, forms part of the second phase of the development to restore and refurbish the buildings and bring them back into use.
Work is expected to start next year, and on completion CNDCL will be seeking occupiers for part of the former prison buildings from digital technology companies, specialists and freelancers to form a community managed by the Hull-based Centre for Digital Innovation (C4DI).
Subsequent phases will feature a four-screen cinema operated by prestige operator Everyman, as well as restaurants and residential, arranged around a showpiece civic square. On completion, the Treadmills scheme will provide 250 permanent jobs in addition to 180 jobs during construction.
Richard Lumley, Chairman of Castlehouse Construction said:
"We are pleased to be delivering the first phase of this exciting regeneration development for CNDCL with the steelworks rising, the first key construction milestone for the project. 
"We are expecting to reach the midway point in February 2020, followed by topping out in the second quarter of 2020. At present, we are making significant progress on site and we remain on target for planned completion in June 2020."