The first phase of the transformational Treadmills regeneration project has opened to the public, providing a timely boost to the local community and economy in Northallerton.
Supermarket group Lidl – the retail anchor for the £17m scheme – and frozen food specialist Iceland have both opened, with a third 1,300 sq ft store unit available for occupation. The three units benefit from a 126-space car park.
The much-anticipated project is being driven forward by Central Northallerton Development Company Ltd (CNDCL), a joint venture between Hambleton District Council and leading Yorkshire developer Wykeland Group.
It is creating an exciting new future as a mixed-use destination incorporating retail, leisure and co-working office space for the formerly derelict site of Northallerton Prison, which closed in 2013 after housing inmates for 230 years.
The second phase of the scheme, in the central part of the site, is well advanced and involves extensive redevelopment of the five Grade II listed prison buildings.
The former main cell block and the female wing will house the 7,000 sq ft Centre for Digital Innovation (C4DI) Northallerton, creating a new community of tech specialists.
Dominic Gibbons, Wykeland Managing Director and a CNDCL Board member, said: "We're excited to see this major regeneration project bring this landmark site back to life.
"The opening of the first phase of the development, focused on retail, adds greatly to the choice available to shoppers in Northallerton and there is much more to come as we transform the former prison buildings."
Jonathan Stubbs, Wykeland Developer Director and CNDCL Board member, added: "The next phase is due for completion in March, despite the challenges posed by the pandemic. This will blend old and new – the conservation and restoration of historic buildings and the creation of hi-tech jobs with innovative digital businesses.
"These new facilities and the jobs they will create have never been more important and will be crucial to the economic development and future prosperity of Northallerton."
C4DI Northallerton will have a specific focus on agritech – the use of technology in agriculture, horticulture and food processing – to help these sectors to develop and grow.
The hospital block is being renovated to create 1,500 sq ft of offices and meeting rooms with additional breakout areas on the upper floor. The ground floor will offer up to 4,500 sq ft of space for a bar/restaurant to be developed with a selected end user.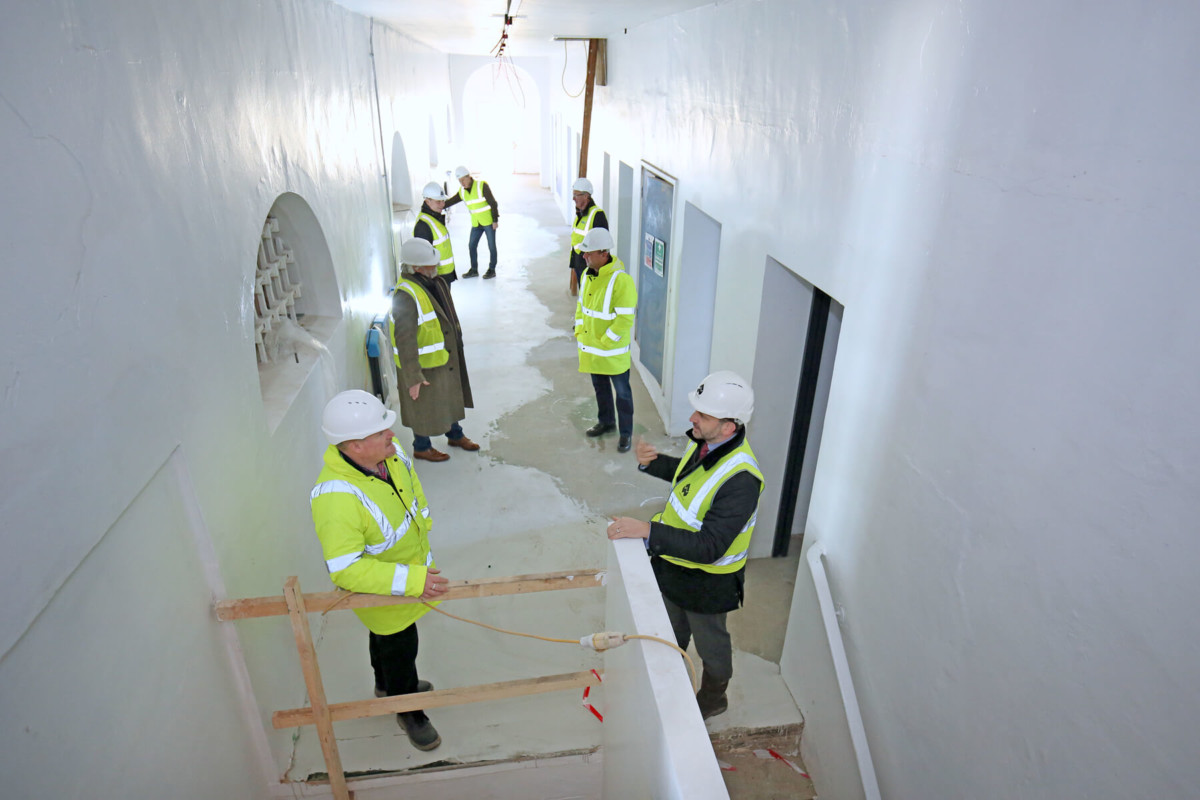 The 3,500 sq ft tenement block is also being converted, for potential use as a digital education facility, complementing C4DI, as well as a retail unit.
In addition, the former Governor's House is being remodelled to accommodate a café operator on the ground floor and mixed uses on the upper floor, creating a total of 3,500 sq ft of new space.
The extensive works involve the retention of as many of original prison features, while creating high-quality, modern office and leisure environments.
Councillor Peter Wilkinson, Deputy Leader of Hambleton District Council and a CNDCL Board Member, said: "Seeing the first two shops open in this development is a major landmark for the scheme – they bring much-needed choice for our shoppers and festive cheer during this difficult time.
"Phase two is also moving on at pace – the historic buildings are being transformed into a new community hub which will have a heavy emphasis on agritech businesses. And the education project will be announced soon as we look to work with a local university and college."
Graham Bell, Northallerton BID (Business Improvement District) Manager, welcomed the opening of the retail element of the development in time for the peak Christmas shopping period.
He said: "The opening of the first phase of Treadmills is wonderful news for the town. It really broadens the appeal of Northallerton and it's brilliant to see prestige companies moving in.
"It's a real vote of confidence in our local economy, particularly during these challenging times for everyone. We're very proud of our town and the local business community, which is strengthened significantly by this new development."
Lidl has created 40 jobs with the Treadmills opening and the store is supporting the local community by giving surplus food and customer donations to a number of local charities. Surplus food will go to Hambleton FoodShare and Breckenbrough Special School, near Thirsk, both of which are working to ensure those in need don't go hungry.
Lidl GB's Regional Head of Property, David Murphy, said: "We would like to thank all those who have played a part in bringing this new Lidl store to Northallerton.
"It's great for us to be able to create more jobs and investment opportunities in the area and we are proud to serve the local community at this time."
Yorkshire contractors are playing a leading role in the project. Leeds-based Castlehouse Construction has built phase one, while the phase two works are due to be completed by Northallerton-based Moody Construction by mid-February.
Hull-based office design company Chameleon Business Interiors is now also on site delivering the interior design, fit-out and furnishing services, ready for occupiers to move into the former prison buildings by the end of March.
The Treadmills project is being supported by the York & North Yorkshire Local Enterprise Partnership, which has secured £1.8m from the Government's Local Growth Fund for the redevelopment and fit-out of the buildings that will be occupied by C4DI and other office users.
For general information about Treadmills, contact Jonathan Stubbs or Tom Watson at Wykeland on 01482 320968 or e-mail jds@wykeland.co.uk or taw@wykeland.co.uk. For property enquiries contact Adam Mobley of WSB Property on 0113 234 1444 or e-mail amobley@wsbproperty.co.uk